Dear editors,
I'm writing to demand that you immediately retract this paper by Mario Saad and colleagues (PLoS Biol. 2011 9: e1001212. doi: 10.1371/journal.pbio.1001212.) due to overwhelming evidence of data manipulation that has been known to you for almost 3 years.
The paper was originally criticized in comments on the journal website in July 2013. In February 2014 I posted these and more problems to PubPeer and PubMedCommons, and forwarded allegations directly to the journal by email. The case was featured in an article in The Scientist in August 2014, and has been widely discussed in comment threads relating to other papers by Mario Saad on the Retraction Watch website. In March 2015, while reporting on a different Saad paper in PLoS One, Retraction Watch asked someone at PLoS Biology to comment. They responded…
The paper you've asked about is one that the PLOS Biology team is currently looking into. We can't share any details and, as is standard, we are not willing to discuss this externally. As you are likely aware, journals have to follow a clear process when investigating issues on papers and at all the PLOS journals we follow the COPE guidelines. Out of respect for both the scientific process, and for all involved, these things take time.
That was over a year ago. Today, 4 more papers by Saad were retracted, thereby disavowing the findings of an internal University investigation, and rebutting a lawsuit between Saad and the American Diabetes Association.
Your continued inaction on this paper is beginning to border on gross negligence. According to ISI Web of Science the paper has been cited 96 times, with more than two-thirds of these citations coming after the initial concerns were raised in June 2013. This is bad for science, and very bad indeed for your journal's reputation.
Sincerely,
Paul S. Brookes, PhD.
P.S. I should note this is not the first time I've had problems getting your journal to take action on a problematic paper! That one only took 8 months to fix.
P.P.S. I recently had the good fortune to teach a class on scientific communication, which included a session on how to critique a paper (journal club style). I used this as an example of a spectacularly bad paper riddled with data problems. In publishing this letter, I'm now making my powerpoint slides freely available for teachers in science ethics and other classes to use as an example. I'm not sure this is what you envisaged for this paper, but I think we can agree this was a preventable outcome.
[UPDATE 3/28/2016]
It has just been bought to my attention that, in addition to all of the above figure problems, large sections of the text in this paper are plagiarized from another publication!  The paper in question is this one, and the two images below detail the extent of the copied passages based on a quick look.  There may be more to be revealed, via the use of software…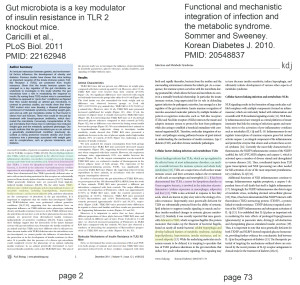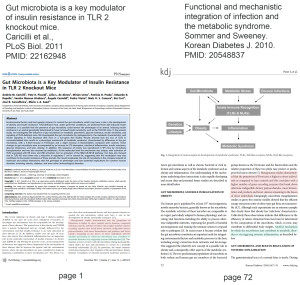 The journal has been informed, although I do not have high hopes, based on zero response whatsoever to tweeting the above letter to both the @PLoS and @PLoSBiology twitter accounts last week.